Memphis police have released body camera footage showing the moment Tire Nichols called his mother as he was beaten by five police officers before his death.
The force released four separate videos, cut into a one-hour clip.
Memphis Police Chief Cerelyn Davis told reporters it came from "three different streams."
"It's three different sources: a body camera, a real source, right at the scene where you know the worst abuse happened, and then two other body cameras from the same officers at the scene," she said.
Ms Davies had earlier asked for calm before the footage was made public.
"I hope you feel what the Nichols family felt," she said. "I want you to be outraged by the disregard for basic human rights."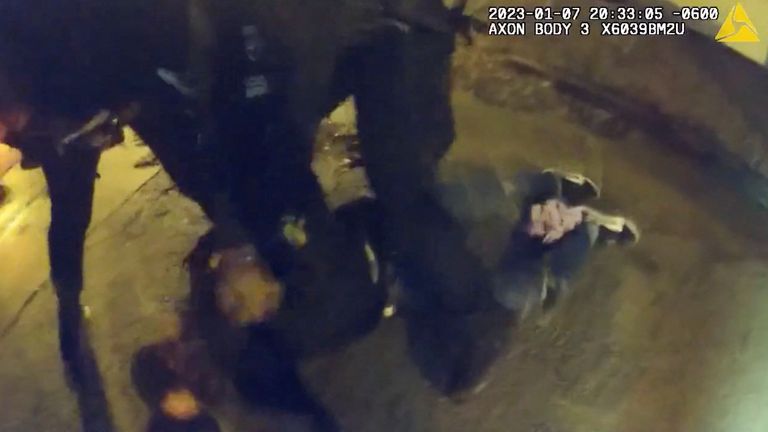 In the video, a camera shows officers initially stopping at the intersection.
An officer yelled at Mr Nichols to "get out of the car" before he could reply: "I didn't do anything".
An officer then yelled at Mr Nichols to "get down".
Mr Nichols replied calmly: "Yes, I am on the ground."
He stood up and tried to get away before the police tasered him.
Police then called for backup as he fled.
One police officer had pepper spray in his eyes so he kept pouring water on his face.
Footage from another camera showed officers arresting Mr Nichols and proceeding to beat him.
Mr Nichols was heard yelling at his mother as police attacked him.
The child's father was then pepper sprayed and punched in the face.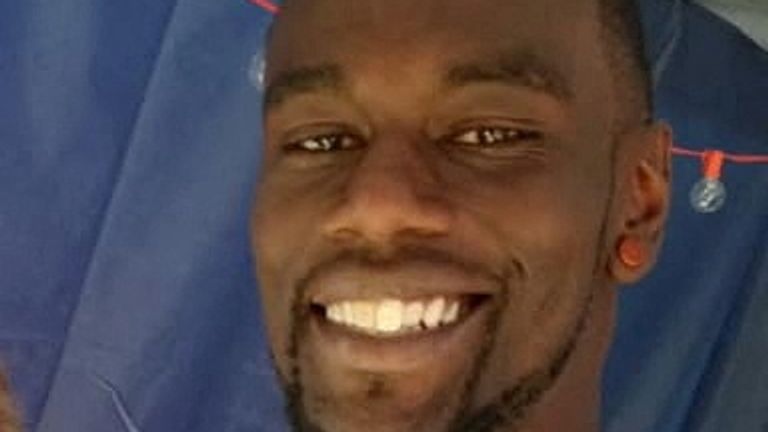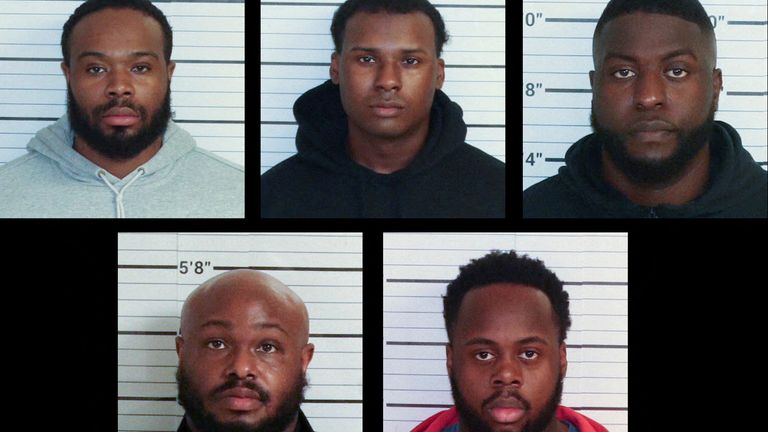 Cities across the country braced for mass demonstrations after the video was released. Relatives of Mr Nichols urged supporters to protest peacefully.
U.S. President Joe Biden said in a statement: "Like many others, I am outraged and pained to watch the horrific video of the beating that resulted in the death of Tyre Nichols. It is yet another testament to deep fear and trauma." A painful reminder that black and brown people in America experience pain and exhaustion every day.
"My heart goes out to the family of Tire Nichols and to Americans in Memphis and across the country who are grieving this enormous and painful loss."
He added: "Violence is never acceptable; it is illegal and destructive. I join Mr Nichols' family in calling for peaceful protest."
Tire Nichols' final words prompt us to ask important questions
Sometimes, there are no words.
Articulating the loss of a son can expand vocabulary at the best of times.
The family of Tire Nichols found themselves in the worst possible situation.
What words are there to express what it's like to have a son, your son, beaten to death on camera?
As hard as anyone could put in a press conference at the Mount of Olives Cathedral in Memphis, perhaps the job was best done by Tire himself.
At the end of the video, he can be heard calling for his mother three times.
This, a mummy boy with her name tattooed on his arm.
Those were his last words in the video, which shows him becoming limp, unconscious and in apparent pain.
He was surrounded by police and other medical experts who stood back rather than intervening.
His last words were a plea to someone he knew would help him, his mother, who lived three blocks from where he was beaten.
Tire's mother, Row Vaughn, didn't realize it until it appeared in the video. She only knows now because someone told her – she can't bring herself to look at the pictures.
"You don't know how I feel," she told a news conference when asked about her son calling out to her.
Of course we didn't.
But we are asked to consider our feelings – feelings of helplessness and inhumanity exacerbated by an adult crying desperately to his mother.
It helps the audience develop empathy and compassion, which are important in the need for change.
The case of Tire Nichols prompts us to ask important questions about American police culture.
Mr. Biden also said he had spoken to Mr. Nichols' mother, Rovaughn Wells, and his stepfather, Rodney Wells.
He continued: "There are no words to describe the heartbreak and grief of losing a beloved child and young father. Nothing will bring Mr. Nichols back to his family and the Memphis community. But Mr. Nichols' son Will The Erneses, and his entire family, deserve a prompt, full and transparent investigation."
Before it was made public, Mr Nichols' family said the "very horrific" footage showed police brutally beating the FedEx employee for three minutes, with their lawyer likening it to the 1991 Los Angeles police attack on motorist Rodriguez. Denikin.
The five fired officers, all black, were charged with second-degree murder and other offenses in Mr Nichols' death, including battery, kidnapping, officer misconduct and officer oppression.
Ben Crump, a civil rights attorney representing his family, said that when members of the public viewed the video, they would see him calling for his mother.