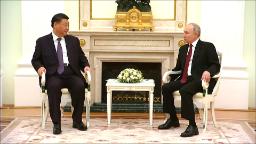 The Biden administration said it was watching Chinese President Xi Jinping's trip to Moscow "very, very closely" as senior officials expressed concern about any calls for a ceasefire at this time.
"The ceasefire being called for right now would basically just sanction Russia's conquest and give Mr. Putin more time to really equip and retrain and restart operations at a time and place of his choosing," said John Coordinator, National Security Council strategic communications coordinator. Bee told Kaitlan Collins on "CNN This Morning."
He said the United States would "reject" any call for a ceasefire from the high-stakes meeting, and reiterated that it was "not in China's best interest" to provide arms to Ukraine.
Kirby said that Russia-China relations are "a marriage of convenience, not a marriage of affection."
"These two countries don't have a lot of trust in each other, but they have found a common reason to fight back against the West, against American leadership," he said.
Kirby said the U.S. had not seen any confirmation of Xi's call with Ukrainian President Volodymyr Zelensky, but encouraged discussions.
"If you're going to Moscow, you're going to sit down with President Putin for three days and you're going to find out what he thinks about a war he started that he can end today. You should at least pick up the phone and talk to Zelensky The president talks to get the Ukrainian perspective," he said.
Kirby downplayed Putin's weekend visit to Mariupol, Ukraine, noting it was "far from the front lines of the fighting in Ukraine."
"It was a convenient excuse for him to go ahead of Xi Jinping's visit to show that he was still commander-in-chief, that he was still in charge, that his troops were still occupying territory inside Ukraine. He could undoubtedly see with his own eyes— Or we want him to see for himself — how badly his army is actually doing where the fighting is actually happening," he said.