Rishi Sunak appears to be bowing to pressure from rebel Tory MPs to demand criminal responsibility for the social media boss for failing to protect children from harm online.
The prime minister faces a major backbench rebellion as 50 MPs sign amendments to the online safety bill.
The amendment would increase penalties for tech leaders who fail to prevent children from viewing harmful content on their platforms.
Cultural secretary Michelle Donelan She has struck a deal with the rebels after weekend talks that will allow the prime minister to avoid an embarrassing defeat in the Commons, according to a source close to her.
The source said Ms Donelan liked the intent of the amendment, but the wording was "not quite right".
The rebels are understood to have dropped the amendment before it returns to the Commons later today – with the culture secretary working with them to bring it to the Lords "in a more workable form".
A government source told Sky News: "Michelle's priority has always been to strengthen protections for children online, while ensuring adults have more choice and control over what they see.
"She has been clear from the outset that any additions to the Online Safety Act will need to work in practice, and she will take a pragmatic and commonsense approach, prioritizing children.
"She is pleased colleagues will no longer be putting their amendments to a vote after constructive dialogue and work."
It is the third time Mr Sunak has backed down in the face of an uprising from backbenchers since moving into 10th place in October, dropping onshore wind farms and housing planning reforms.
former cabinet ministers including former home secretary Priti Patel and former tory leader Sir Ian Duncan Smith Is one of those who support changes to the Online Safety Act.
With Labor also backing it, Mr Sunak would suffer his first major defeat in the Commons if a compromise is not found.
The Rebel Amendment wants to introduce a new clause in the Online Safety Bill to "criminalize the failure of user service providers to comply with their safety obligations to protect children set out in the draft law".
In its current form, the new internet safety law will require tech companies to remove illegal material from their platforms, with a particular emphasis on protecting children from harmful content.
Social media platforms and other user-generated content-based sites that break the rules face hefty fines from the industry's new regulator, Ofcom.
But the proposed law would only hold tech bosses accountable for failing to provide information to regulators.
Jon Craig, Sky's chief political reporter, said: "The government has confirmed that it has made significant concessions in the face of the threat of an insurgency that could lead to the government's defeat on the online safety bill.
"Ahead of a major showdown, as many as 50 Conservative MPs have threatened to vote against the government, which has pledged not to accept the amendment proposed by the rebels but to bring it back to the House of Lords.
"The government has backed down because it could lose the vote."
read more political news
Teachers and Nurses Announce Strike – Anti-Strike Law Passes Vote
UK govt blocks Scotland's gender reform bill on constitutional priority
Thousands of teachers strike over 'harmful combination of low pay and excessive workload'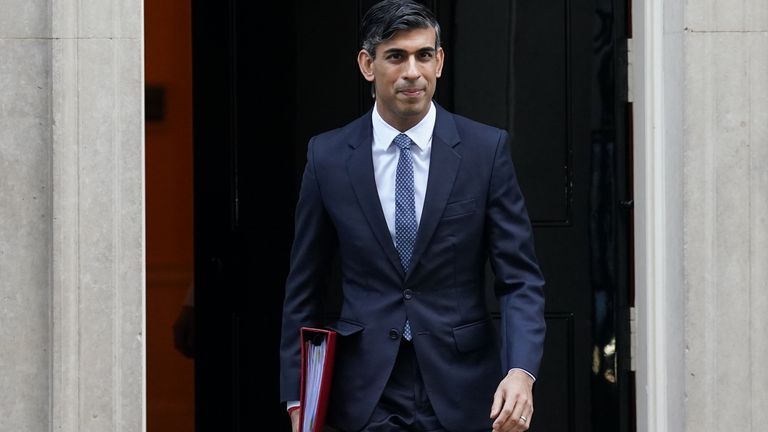 Current protection "weak"
Sir Ian has said the protections currently offered by the draft legislation are "weak" and that children need more protection from "extreme pornography" and material about suicide.
The NSPCC has been helping drive a movement to hold managers criminally liable for failing to protect young people.
Richard Collard, deputy director of online policy for children's charity Children's Safe Online, said: "By committing to senior manager accountability, the Culture Secretary has sent a strong and welcome signal that she will give the Online Safety Bill what it needs to drive culture forward. The power to change tech companies at their core will help protect children from future tragedies.
"The government has rightly heard the concerns raised by MPs and we look forward to working with ministers to ensure final legislation holds senior managers accountable in practice if their products continue to put children at risk of preventable harm and sexual abuse ."
Ian Russell, the schoolgirl's father Molly RussellShe, who committed suicide after seeing harmful material on social media, said the threat of jail was "the only thing" that could get bosses to "put safety at the top of their agenda".
"I think it's a very important thing to do in terms of changing the corporate culture of these platforms," ​​he told BBC Newsnight.